Greenville-Spartanburg International Airport Sculpture Garden
Upstate I-85 corridor, South Carolina, USA
September 23, 2006 - 12:54 p.m. EST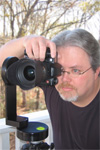 Loading panorama viewer ...
© 2006 John Riley, All Rights Reserved.
Equipment
This panorama was shot using a Nikkor 10.5 mm fisheye lens on a Fuji S2 Pro DSLR mounted on a 360Precision panohead. RAW and post-processing were performed in Adobe Lightroom and Adobe Photoshop CS2. I had to shoot quickly to catch the plane in three separate images.