Mariinsky II
Kryukov Canal, Saint Petersburg, Russia
May 13, 2015, 14:23 UTC (18:23 local time)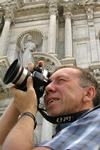 Loading panorama viewer ...
Configuring ...
© 2015 Andrew Varlamov, All Rights Reserved.
Behind the scene : trying to catch the theme of the event
The first suitable object that I remembered was the New Hermitage, built more than 200 years ago for art collections of Russian Tsars, but it was new by the name, rather than by age. However, don't miss chance to feel the difference and visit
The Raphael Loggias
.