Saint Nicholas Anapafsas Monastery - Meteora, Greece
Meteora, Greece
June 21, 2007 - 12:48PM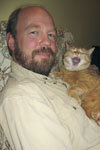 Loading panorama viewer ...
© 2007 Mark Fink, All Rights Reserved.
Equipment
Canon 10D, Sigma 14mm, Pinnacle VR Universal Pano head. Three rows of eight images stitched into a final image measuring 6,615 x 13,230 pixels using PTGui and post production in Adobe PhotoShop CS3. TIF converted to MOV using Pano2QTVR.