Staff Appreciation Day
University of California, Berkeley, California USA
12:45 pm on June 20, 2007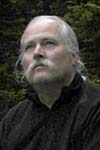 Loading panorama viewer ...
© 2007 G. Donald Bain, All Rights Reserved.
Equipment
Photographed with an Olympus E-500 digital SLR with an 8mm Zuiko fisheye lens. The camera was held high overhead on a hiking stick with L-bracket. Stitched with PTGui 6 on a Macintosh dual-Dual-Core Intel Xeon tower, retouched with Photoshop CS3, converted to QTVR using Cubic Converter.