Roller Skaters awaiting Friday Night Skate
Palace Square, Saint-Petersburg, Russia
June, 15, 2007 - 19:15 UTC (23:15 local time) - 8 minutes to sunset and white night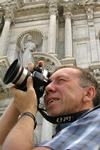 Loading panorama viewer ...
Configuring ...
© 2007 Andrew Varlamov, All Rights Reserved.
Behind the scene : how this panorama was made
Weather conditions were suitable for early Spring : sky without clouds, strong west wind, air temperature was equal to +10°C. Wind was so strong that I spent some time at home solving problem which tripod to use - old heavy Falcon Eyes or new light Manfrotto 055 CLB.
I made 4 series of shots from 2 different positions. Shooting parameters: 6 shots around, 1 shot of zenith, 1 hand-held shot of nadir, ISO 400, shutter speed = 1/125sec, aperture = F3.5, focal length = 10mm, white balance = Daylight, quality = RAW, recorded pixels = 3008x2008.