Confusion in Vintage Photographer's Studio
Confusion in space and time...
Confusion between the latter part of the 19th century and the early part of the 21st century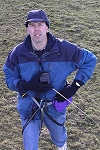 Loading panorama viewer ...
Configuring ...
© 2019 James Gentles, All Rights Reserved.
Equipment
Nodal Ninja 2, Sony a6000, 16mm pancake. ptgui and Paint Shop Pro.  Original 25000x12500pixels.