Stondon Transport Museum
Lower Stondon, Bedfordshire, UK
September 23, 2006, 10:28 UTC (11:28 local time)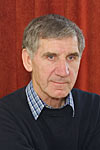 Loading panorama viewer ...
Configuring ...
© 2018 John Houghton, All Rights Reserved.
Equipment
Canon 20D + Sigma 8mm f/3.5 fisheye mounted on a Nodal Ninja 3 panorama head. Software: PTGui Pro V11, Photoshop CS6. (Only a single exposure set of jpeg images were available for stitching at this time in 2018, though a full set of bracketed raw images were originally shot).