The Jordan Staircase
The Winter Palace, Saint Petersburg, Russia
January 31, 2018 - 17:56 local time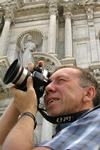 Loading panorama viewer ...
© 2018 Andrew Varlamov, All Rights Reserved.
Behind the scene : other panoramas shooted this week
When I took shots for these panoramas at end of January 2018, the theme of the next WWP event was not proclaimed yet. Without long-expected return of Markus, its publication would be impossible.
Long hallway with European tapestries (hall № 303) leads from entrance on the square side to Rotunda, and it is decorated by red banners with revolutionary slogans.
Rotunda (hall № 156) displays posters, newspapers and magazines printed in 1917-1920. The Small Dining-Room (hall № 188) (where the Provisional Government was arrested by the Bolsheviks in 1917) is one of the next rooms.
In the Jordan Gallery (or Rastrelli Gallery) on the ground floor artistic lighting is installed, walls and pillars of the gallery are mantled by large reproductions and red banners of 100 years's prescription.
To feel the difference please check how the gallery looks usually