Les saveurs de l'aventure — La table de Loïc...
La Baule, France
March 25, 2017, 18:25 UTC (19:25 local time)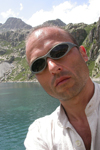 Loading panorama viewer ...
Configuring ...
© 2017 Christian Braut, All Rights Reserved.
Equipment
Taken with a Nikon D810 + Nikkor 16 mm DX AF Fisheye mounted on a Nodal Ninja 3 MKII head. One row of six shots + zenith/nadir. Optimized with Photoshop/Camera Raw, stitched with PTGui and KRPano Tools.