On the Seaview Trail in the Berkeley Hills
Tilden Regional Park, Berkeley, California USA
March 22, 2012 11 am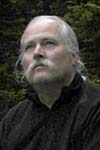 Loading panorama viewer ...
Configuring ...
© 2012 G. Donald Bain, All Rights Reserved.
Equipment
Photographed with an Olympus Pen E-P2 digital camera with a 7.5mm Rokinon fisheye lens, on a hiking staff. Stitched with PTGui Pro 9.0 on a Macintosh Intel Core 2 Duo iMac, retouched with Photoshop CS3.