Charlestown Harbour
Forgotten harbour on Fife's southwest coast, Scotland, UK
March 18, 2011, 14:30 UTC (local)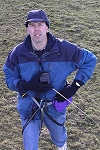 Loading panorama viewer ...
© 2011 James Gentles, All Rights Reserved.
Equipment
Nikon 8400 with FC-E9 Lens. Homemade camera cradle/rig, triggered by a
gentLED
intervalometer. Suspended below a Dan Leigh Trooper kite with 6ft/2m span.
This technique produces two hemispheres, and a different workflow in PTGui from the classic ground pano technique. This results in lower resolution BUT impossible angles!
See
the rig
, how Kite Aerial Photography
is achieved
, and
the workflow
.
Behind the scene : how this panorama was made
The month before WWP I had been introduced to this place by a friend. I filed it for use when the conditions were right.
The challenge with WWP is getting the right wind and the right light within the shooting window. This means the "theme" takes 3rd place so can often be tenuous. With March weather being problematic I took my chance on the first day of the WWP shooting window.
I use different kites for different winds, the lower the wind the bigger the kite. Despite the forecast being for low winds there was a bracing wind blowing out of the west when I arrived at the shoot. I also suspected the wind would freshen as the afternoon progressed so I chose to fly the "Trooper" kite, specially designed for high wind, with a 50foot tail to help stability.
Once high in the sky the kite became stable enough to attach the camera that weighs 1.4Kg (3lbs). Always a nervous time as the fisheye lens has no protection should it touch the ground.
The camera hovered about 3m from the ground and the kite struggled to lift the weight. I nervously persevered for half an hour and the wind increased, soon the camera was 50m (150ft) up and taking pictures as I walked around the site trying to get the NADIR in the best place.
The camera automatically took over 350 images, many were rejected, only one was used for the final picture - hopefully you like the results!