Atmosphere, A Thing of the Past?
My Living Room, Middelburg, The Netherlands
March 25 2007, 22:00 CET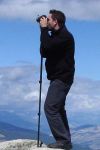 Loading panorama viewer ...
Configuring ...
© 2007 Serge Maandag, All Rights Reserved.
Equipment
I used a Manfrotto 055CLB tripod with a Nodal Ninja 3 panorama bracket. The photos were shot with a Nikon D70s + Nikkor 10.5mm and a cheap universal IR remote, stitched with PTGui 6 and converted to a QTVR with Pano2QTVR.