Napping, after Atmospheric Breast Feeding
Somewhere above the Atlantic Ocean
14:00, March 21, 2007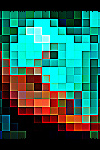 Loading panorama viewer ...
Configuring ...
© 2007 Jeffrey S. Martin, All Rights Reserved.
Equipment
Handheld, 6 shots, Canon 5d, nikkor 10.5, I shot 5 shots and my darling Katka shot the nadir. Ptgui, smartblend, and lots of sweat :-O Special thanks to Landis for his understanding, and great efforts.