Twilight at Inchiquin
The Causway to Inchiquin Island in Lough Corrib, Co Galway, Ireland
25, March 2007 - 18:20 UTC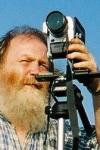 Loading panorama viewer ...
© 2007 George Row, All Rights Reserved.
Equipment
Taken with a Minolta DImage 7 digital camera, with a 7.2-50.8 mm f2.8 lens. Taken at a focal length of 7.2 (equivalent to 28mm). Stitched using Kekus's Calico 1.3 stitcher and rendered as a Cubic VR using ClickHere's Cubic Converter and Cubic Connector.