Four Million Tons of Carbon Dioxide
Morro Bay Power Plant, Morro Bay, California, USA
March 23, 2007, 11:50 am PDT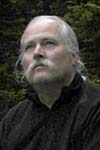 Loading panorama viewer ...
Configuring ...
© 2007 G. Donald Bain, All Rights Reserved.
Equipment
Photographed with an Olympus E-500 digital SLR with an 8mm Zuiko fisheye lens, on a Nodal Ninja VR mount, Acratec Ultimate Ballhead, and Velbon carbon-fiber tripod. Stitched with PTGui 6 on a Macintosh dual-Dual-Core Intel Xeon tower, retouched with Photoshop CS3, converted to QTVR using Cubic Converter.
Behind the scene : how this panorama was made
Even though I was the originator of the theme "atmosphere" (Landis and I take turns choosing) I didn't know exactly what I wanted to photograph.
I was watching and waiting for an exceptional sunset or sunrise - but nothing special happened. I considered trying to capture the fog blowing through the Golden Gate, but that didn't work out either. A misty, rainy day would have been great, but it was clear and sunny.
I headed south down the coast for the weekend, and had dinner in the town of Paso Robles at Bad Bubba's Big Barbecue, or was it Big Bubba's Bad Barbecue? Lots of ersatz atmosphere there, cowboy paraphernalia and a mechanical bull.
Eventually I decided on a serious and invisible theme - greenhouse gas emissions, specifically carbon dioxide, symbolized by the big Morro Bay electric generating station. Ironically, the plant was silent, shut down while its owners battle with regulatory agencies and citizens' groups over its future.