Davout Recording Studio: Acoustic Atmosphere
Paris, France
March 22, 2007 - 14:16 (15:36 local time)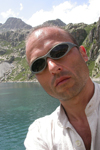 Loading panorama viewer ...
© 2007 Christian Braut, All Rights Reserved.
Equipment
Taken with a Nikon D70 + Nikkor 18-70 Mounted on a Manfrotto SP303PLUS Head. Six shots + zenith/nadir, with bracketing (f2,8 at 1/8 s, -2ev, +2ev). Averaged with Photomatix Pro, optimized with DxO Optics, nadir edited with Photoshop, stitched with Realviz Sticher Unlimited, rendered by CubicConverter.