View From Bimberi Peak - ACT/NSW State Border
Bimberi Range, Namadgi National Park, ACT, Australia
March 18, 2006 - 07:26 UTC (18:26 local time)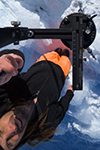 Loading panorama viewer ...
Configuring ...
© 2006 Simon Wheaton, All Rights Reserved.
Equipment
---
HARDWARE
---
Canon EOS 350D DIGITAL (EOS Digital Rebel XT) Camera
Canon RS-60E3 Remote Switch
Canon EF-S 10-22 mm f/3.5-4.5 USM Zoom Lens
Peace River Studios 3Sixty Panoramic Camera Mount
Manfrotto 338 Levelling Base
Acratech Universal Cork Top Quick Release Camera Plate
Acratech Ultimate Ballhead Tripod Head
Gitzo G1227MK2 Mountaineer Carbon Fiber Tripod
Inca Hotshoe-mount Dual Spirit Level
SanDisk Extreme III 1GB CompactFlash Memory Card
NextoDI Nexto-CF ND-2500 60GB Portable Storage Device
Garmin eTrex Vista C GPS Receiver
Burton Snowboards F-Stop Camera Backpack
---
SOFTWARE
---
Adobe Photoshop CS2 (RAW Image Conversion, Image Editing and Adjustments)
Kekus Digital PTMac (Panorama Stitching)
Helmut Dersch's Panotools (Panorama Stitching)
Kekus Digital XBlend (Panorama Blending)
Andrew Mihal's Enblend (Panorama Blending)
Thomas Rauscher's Pano2QTVR (Blended Panorama Image to QTVR Movie Conversion)
---
EXPOSURE
---
Panorama Type: Cylindrical
Number of Images: 18 Images x 1 Row
Focal Length: 10mm (16mm at 35mm film equivalent)
Shutter Speed: 1/125 second
Sensor Sensitivity: ISO 100
---
Behind the scene : Choosing a Location
This panorama was actually my fourth choice of location to shoot from. I had four options of locations to shoot for this event, the first 3 choices did not work out, leaving me with this photo as my only choice for submission.
My first choice of location was Cape Howe, on the coast where the New South Wales and Victorian border meets the Pacific Ocean. Located within the Nadgee Nature Reserve on the NSW side of the border, and within Croajingolong National Park on the Victorian side of the border, reaching Cape Howe requires a 2 day hike in and out, and my work commitments and lack of transport for that period of time ruled out this option.
My second choice was Mount Youngal, in the NSW Kosciuszko National Park, which I thought might overlook the Murray River southern banks that form the NSW/Victorian border. Upon reaching the summit of Mount Youngal on the Sunday, after a 2 hour/11 kilometre/1000 metre vertical rise mountain bike ride up a closed-to-vehicles dirt access road, with my 12 kilograms of camera pack and water, with only 2 hours of sleep and a 3 and a half hour drive to get there, having arrived home at 1am in the morning after spending 14 hours the day before to shoot my forth choice of location, I found that the view was not what I expected, with buildings on the summit and trees blocking the view, so I did not take a photo.
My third choice was The Pilot, another peak in the NSW Kosciuszko National Park that also overlooks the Murray River South Bank which forms the NSW-Victoria border. After mountain bike riding the 2 previous days, being exhausted from doing so, and having my rear disc brake pads on my mountain bike wearing out at the start of the descent from Mount Youngal the day before, I decided not to ride to take a photo from the summit of The Pilot on the Sunday.
My fourth choice was Bimberi Peak, on the Australian Capital Territory/New South Wales border. I rode into Bimberi Peak on the Saturday, the first day of my shooting schedule, to shoot this fourth choice as a backup in case the second and third choice locations didn't work out. This turned out to be the only photo I actually shot for the WWP event, and therefore the photo I had to use.
On the Saturday, for the Bimberi Peak shoot, I drove the car for 210 kilometres/3.5 hours, rode my mountain bike for 33 kilomtres/4.5 hours, and hiked for 7 kilometres/2.5 hours.