A Border Runs Through It - The Cal Neva Resort
Crystal Bay, Nevada, USA
March 21, 2006 - 11:20 AM Local time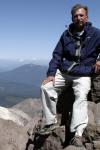 Loading panorama viewer ...
© 2006 Mike Posehn, All Rights Reserved.
Equipment
Canon 5D with 15mm fisheye lens mounted on a Really Right Stuff spherical bracket and a Manfrotto panorama head.
Behind the scene : how this panorama was made
The low light level in this room combined with the bright light outside the windows was challenging. I used the camera's auto-bracketing to capture three images over a four f-stop range (13sec, 3.2 sec and .8 sec at f/16 & ISO 100) at each camera position. After creating three different spherical panoramas, I used Photoshop's High Dynamic Range processing to create a master file. The window highlights were still blown out, so I had to manually overlay parts of a 1/10 second exposure of the windows. The final QTVR was made using Pano2QTVR.