Beyond the Border
Bagnacavallo, Emilia Romagna, Italy
10:30am CEST, 20 March 2006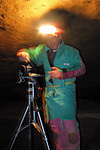 Loading panorama viewer ...
Configuring ...
© 2006 Claudio Lanconelli, All Rights Reserved.
Equipment
Hardware: Nikon D70, Nikkor 10.5, my left arm and my left hand.
Software: RawShooter essential, Hugin, Photoshop 7, Pano2QTVR.
The photos have been taken by hand free, with my arm inserted in the manhole and "Jocking" eight shots around.
In order to illuminate the cell I have make use of the D70 small flash.
The upward photo has been taken outside the manhole.