'Palm Sunday' at the Marketplace
Lipnica Murowana, Poland
March 20, 2005, 10:30 local time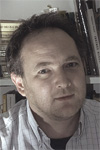 Loading panorama viewer ...
© 2005 Piotr Popik, All Rights Reserved.
Equipment
The panorama was taken with Belarussian Peleng MC f 3.5/8 mm lens (set at f 11, ~ 8 m) on Canon EOS D-Rebel, (set at 1/200s, ISO 100). I took several pictures, because people were in constant motion, but the panorama was stitched with 5 pictures using Professor's Helmut Dersch Panorama Tools (well, the PTGui graphical interface). The circular HOV of this lens on EOS D-Rebel is 165.8
o
. Autopano and Enblend were of a great help.