Hello World! My First Aerial Panorama.
Craigmiller Castle, Edinburgh
29th January 2005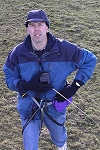 Loading panorama viewer ...
Configuring ...
© 2005 James Gentles, All Rights Reserved.
Equipment
Nikon 4300 with FC-E8 full fisheye lens.
Unlike the normal workflow, this shot deliberately uses 2 hemispheres stitched around the horizon. Normally fisheye lenses don't do this well because of distortion and chromatic aberration at the edge of the lens. The FC08 and FC09 are advertised with a usable 183-degree FoV. After these tests it became clear that the actual FoV was 189degrees, the last 6degrees has an increasingly bad blue offset - this is exactly what we want - the sky is blue! For once everything is in our favour. Next... fly the kite!