The Ferry Building Marketplace
San Francisco, California, USA
11 am PST, March 18, 2005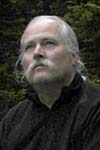 Loading panorama viewer ...
© 2005 G. Donald Bain, All Rights Reserved.
Equipment
Photographed with an Olympus E-1, 14-54mm lens at 14mm (28mm film equivalent), mounted on a Kaidan QuickPan III, Acratech Ultimate Ballhead, and Velbon tripod. Stitched with Apple QuickTime VR Authoring Studio, edited with Adobe Photoshop CS, on a Mac G5.
Behind the scene : how this panorama was made
The Spring Equinox of 2005 came at a very busy time for me, the middle of the semester and the beginning of Spring Break. In addition to my own panorama I worked with two students on their contributions to Marketplace.
Graduate student
Rebecca Ghanadan
and I went out to the Berkeley Horticultural Nursery early in the morning on Thursday. It was overcast, a nice diffuse light, and the nursery was closed to the public. The employees watched us curiously as we carefully considered locations and strategies.
High school student
Kaz George
, working as an intern in the geography department, chose a radically different subject. We went to the Emery Bay Public Market, a lively scene at lunchtime, with lots of movement and tricky lighting.
For my own panorama I had arranged with
Equity Office
, who manage the Ferry Building, for permission - thank you to Jane Connors. It was a day of torrential rain and I was very glad to be shooting indoors. The next day I was on the road, heading south to the desert to photograph wildflowers.