Classic Cars & Spare Parts
Olympiahalle, Munich, Germany
March 19, 2005 - 13:41 UTC (14:41 local time)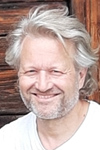 Loading panorama viewer ...
© 2005 Carl von Einem, All Rights Reserved.
Equipment
Voigtländer Bessa-L w/ 15 mm Heliar; 1/4 sec. @ f8
Monopod and self-built adaptor
Reala Color Negative film scanned with LS-4000 trying to establish a full 16-bit workflow
Stitched with PTMac, some manipulation in Photoshop
More about the Delaunay Belleville
I thought this might be interesting to some of you...
This car was manufactured in France in 1911. At that time it was usual to have the carriage body of such a car built in another place, this Landaulet has been built near Kensington in England. The first owner is said to have traded it in for a new Rolls Royce in the mid-30s. The second owner later borrowed it to the National Motor Museum in Beaulieu, England.
After a long time on exhibition it was sold in the mid-80s to the third (and present) owner who has just finished the last important details: all the dirt of so many decades has been gently removed from the original painting reveiling it's original blue colour. I always thought the car was black! Everything is in it's original state, even the interior decoration.
The tech guy behind it Alfred Smidt of klassikerschmiede.de had a busy weekend explaining all the interesting details of this project and the history of this veteran car to the visitors.