Palm Sunday bundles - Cvetne butarice
Ljubljana, Slovenia
17th March 2005 / 10:30 am CET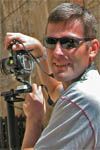 Loading panorama viewer ...
© 2005 Boštjan Burger, All Rights Reserved.
Equipment
Nikon D2x / Nikkor 10.5 / Manfrotto QTVR head
Behind the scene : how this panorama was made
I had several ideas about the marketplace and thought about the preference of the original idea or the mark of the time as it was the time of Palm Sunday. I had decided to follow the mark of the time and found out the ethnological feature of the town where I live. The Flower marketplace is tighten along the northern outer wall of St. Nicolas Cathedral so I worried about the deep shadow and high contrast. I checked the situation one day before and discovered that the flower market was all the time in the shadow even from the early morning until the five o'clock when the market was closed. I was without the proper camera as I am extremely "clumsy" and let my high dynamic range camera to get a fatal "swim" in one of the underground streams... but that is the another story... My backup camera was quite poor with the handling the contrasts so I had almost gave up with the idea of the flower market. By the coincidence I found out that, I can test the new Nikon D2x 12 Mpix camera that had come into the country one day before. I had three hours of time to learn new features and test it. Fortunately, the camera was very user friendly and I had time to shot few panos of the flower market.
Cvetne butarice na Pogačarjevem trgu
Pomladno enakonočje 20 marca je bilo v letu 2005 na čas cvetne nedelje. Cvetlični trg na Pogačarjevem trgu v bližini stolne cerve sv. Nikolaja v starem mestnem jedru postane v tednu pred cvetno nedeljo živahen prostor, kjer je moč dobiti cvetne butarice posebne vrste. Ljubljanske butarice so namreč edinstvene in posebnost, saj so narejene iz raznobarvnih oblancev medsebojno povezanih s šopom brinja ali ciprese. Take butarice so bile v preteklosti namenjene predvsem ljubljanskim meščanom, ki niso imeli obdelovalne zemlje in živine. Tako danes butarice iz oblancev čez leto do naslednje cvetne nedelje krasijo domove kot so nekdaj meščanska stanovanja.