Gostiny Dvor and Nevsky Prospekt
Saint Petersburg, Russia
March 19, 2005 Local time 19:25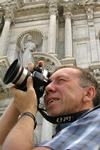 Loading panorama viewer ...
© 2005 Andrew Varlamov, All Rights Reserved.
Equipment
Hardware: PENTAX Optio 450, Falcon Eyes tripod, self-made panoramic head
Software: Realviz Stitcher 4.0, Adobe Photoshop 7.0
Behind the scene : how this panorama was made
Let me say some words about technical conditions of photography. It were strong snowfalls since March 17 till March 19, 2005. Early morning of March 17 was so cold that lens of my camera became foggy after pair of shots (air temperature was -10 degrees of Celsius and humidity was around 85 percents). Panorama You see now was made in Saturday evening in pause among snowfalls. Air temperature = -4 degrees of Celsius, Exposure time = 1/20sec, F-stop = 2.8, Focal Length = 7.8 mm, Sensitivity = ISO 400, Camera = PENTAX Optio 450.