Bad Wildbad - Thermal Water and Modern Transportation
Bad Wildbad, Black Forrest, Baden-Württemberg, Germany
11:39 local time (10:39 UTC)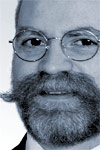 Loading panorama viewer ...
© 2004 Thomas Rist, All Rights Reserved.
Equipment
Taken with a Nikon CoolPix 990, FC E-8 fisheye, zoomed in, f.4,8 at 1/125 second at ISO 100. Mounted on a selfmade VR-head. Four shot round, plus zenith and nadair. Extra exposures for the sky. Software used for this panorama: Photoshop, NeatImage, PtGui with PanoTools and PanoCUBE Plus.