John Lennon "Imagine" Memorial
Strawberry Fields, Central Park (Central Park West and 72nd Street), NewYork City, New York, USA
5:45 pm EST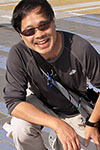 Loading panorama viewer ...
© 2004 Jook Leung, All Rights Reserved.
Equipment
Taken with a Fujifilm S2 Pro digital SLR, Nikkor 8mm/2.8 lens, f8 at 1/32 second, ISO 400. Sound capture with the voice memo feature of the S2 camera. Stitched with PTMac and Panorama Tools. Additional post-production with PhotoShop, Cubic Converter, iMovie, RevolVR, SoundsaVR and QuickTime Pro.