Pigeon Point Light Station
Californian Pacific Coast, United States
16th May, 1831 U, 10:31 local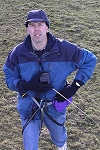 Loading panorama viewer ...
© 2016 James Gentles, All Rights Reserved.
Equipment
4 GoPro HERO2 cameras, with a wooden camera cradle/rig to hold the cameras in exactly the correct position is triggered by 4
gentWIRE
camera syncronisers. Normally this is suspended below one of my own kites, but in this case Jim Powers provided the lift drom his quiver. The visit to Pigeon Point was part of the KAPiCA16 event - Kite Aerial Photography in California 2016.
This technique produces two hemispheres, and a different workflow in PTGui from the classic ground pano technique. This results in extra effort BUT impossible angles!
See
the rig
, how Kite Aerial Photography
is achieved
, and
the workflow
.
Behind the scene : How high is the camera?
So the light station tower is 35m tall and sits a-top a 15m cliff / headland. I found that out on the web, but how high was the camera? Well there are 2 ways to work it out:
1. Technology: Nikon make a Laser Rangefinder with inclinometer. That measures range and angle with a optical sight. This means during the shoot you can work-out height and distance. But what if (as here) you dont have time, and only have the resulting image...
2. Observation: It is possible to work-out directly from the image. If interested you can prove this mathematically, it's one of those problems where the initial complexity cancels out and reduces to a simple conclusion:
WHERE THE TOWER CUTS THE HORIZON IS THE HEIGHT OF THE CAMERA
That's about 5m from the top, or 30m AGL.
This technique can be used on any image where the horizon is clearly visible and can also be used to estimate the height of an object if the height of the camera is known (the corollary of this above example).