Evening View Above the "Studenec" Lookout Tower
Studenec Hill, Southern Czech Republic
September 28, 2011, 17:48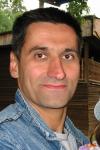 Loading panorama viewer ...
Configuring ...
© 2011 Martin Hrdlička, All Rights Reserved.
Equipment
Stand 8m, bracketed shots - 90xRAW, Enfused, Photomatixed, layered in Photoshop
Behind the scene : how this panorama was made
The real adventure started on the foot of the hill where we were able to carry all our stuff by a SUV.
The path with big stones was sometimes very steep and dangerous.
Our stand and a camera 8m above the lookout tower were moved by a strong wind.
There were very low amount of light and the sunset was much quicker then whenever before.
Stitching, enblending, enfusing, retouching was than only a piece de resistance.