Lincon Memorial
National Mall, District of Columbia, USA
Friday, December 10, 2010, 5:38 pm EST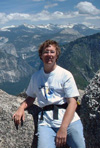 Loading panorama viewer ...
Configuring ...
© 2010 Joel M. Baldwin, All Rights Reserved.
Equipment
Canon 450D, Peleng 8mm Fisheye, Panosarus Pan Head, cheap monopod
PTGui Pro 8.0.2 x64 using HDR, Photoshop CS4
Behind the scene : how this panorama was made
Difficult shoot.<p.
No tripods are allowed so I had to jack up the ISO, and still had exposures of 1/4, 1/15, and 1 seconds for the HDR frames. I held the monopod as still as I could, but some of the shots, especially the 1 second ones, were a bit blurry.
Even though it was the middle of winter on a freezing day the number of tourists was a problem. Just as the place would start to clear out another tour bus would dump a load and the place would fill up again. I kept the monopod in one spot so as to maintain registration between the shots. I just kept turning around taking my shots hoping that I'd get a combination that would have the minimal number of people in view.<p>
All things considered it turned out ok, could be better, could be worst.<p>
Noise from the high ISO.
Blur from the long exposures and no tripod.
A dark room with deep shadows and bright lights.
Constantly moving crowd of tourists.
Did I mention it was cold?