4 Seasons: Sun/Moon Rises/Sets of 2010
Deer Lake State Park, Florida, USA
December 20, 2010, sunset/moonrise 16:39, December 21, 2010, sunrise/moonset 6:35 (for three other seasons, see past WWP entries)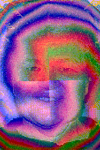 Loading panorama viewer ...
Equipment
Canon 300D (Digital Rebel) digital SLR, EF-S 10-22mm lens, ISO 100. December evening 1/60s at f/11, morning 1/125s at f/5.6. For the three other seasons see the past three WWP events. Nodal Ninja pano head. 12 photos each at 17mm focal length (stitched as 28mm lens). Composited elements of eight panoramas as one in Adobe Photoshop CS4. Stitched panos in QuicktTime Virtual Reality Authoring Studio (QTVRAS). Saved as .mov in QuickTime 7 Pro.
Behind the scene : how this panorama was made
This required eight trips to the same location at the solstices and equinoxes, sunrise and sunset. Any marks I made for tripod feet were weathered away when I returned three months later. Since the tripod was not centered on exactly the same spot and the camera was not at exactly the same height for each shoot, the point of view varies. That's why many of the elements don't line up from morning to night and between seasons.

If I try such a project again, I must devise some sort of a template or pattern to locate tripod legs exactly. Also I must measure the height of the viewfinder and keep it the same.

As you can probably tell, I kind of enjoy the variety and mix of parameters, all providing a slightly different aspect to build a feeling for the whole year.