Château Louis XIV
Louveciennes, France
October 19, 2009, 14:30 UTC (12:30 local time)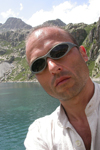 Loading panorama viewer ...
Configuring ...
© 2009 Christian Braut, All Rights Reserved.
Equipment
Taken with a Nikon ES400 mounted on a custom motorized head/12.5 meter high aerial mast system by Alticlic. Three rows of eight (horizontal + up) and six (down) shots. Optimized with Photoshop/Camera Raw, stitched with PTGui and CubicConverter.