GISS 2008 - A Workshop held by Me
Szekesfehervar, University of West Hungary, Hungary
August 24, 2008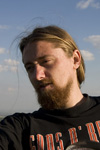 Loading panorama viewer ...
Configuring ...
© 2008 Viktor Balogh, All Rights Reserved.
Equipment
Canon 300D, Tokina 12-24 rectilinear @12mm, Manfrotto tripod+panhead
Behind the scene : how this panorama was made
This panorama has a special making-of. Not every day happens that you forgot to download the stitched panorama sources from the portable HDD to the local home server, and from the work you've got only very slow connection to your home server.
I would like to thank you for the PanoTools list for the prompt answer to my email.
"Hi, Can somebody help me? Im at work, but want to submit my panorama for the wwp event. The panorama is ready, as it is uploaded on my site: <
http://vrphoto.hu/2008/08/24/giss2008_panoramic_photography_lecture/>
But I need to upload a smaller version as well, and the source files are at home in a portable HD. So my best choice would be to disassemble the qtvr file and resize the cube faces in Photoshop. I know about a free software whereby mov files could be disassembled, but I can't find it anywhere. It was a simple exe binary for windows. Right now I'm downloading the RAW files from home, but it needs a lot of time and in this way I should re-stitch all the pictures just for this thumbnail view. PS: I mean it not as an offense, the best would be if someone could drop me a private mail with the name of the software. I don't want to spread the internet with stolen QTVRs. Bests, "
After all, a MILLION-THANK-YOU to all who answered to my email, especially to Anders Jiras who sent me the downconverted version.
<
http://www.hallmark.com/wcsstore/HallmarkStore/images/products/ecards/nfg2687.swf>