A Palace by the Bay
San Francisco, California, USA
January 17, 2008, 5:05 pm local time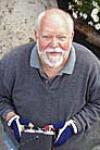 Loading panorama viewer ...
Configuring ...
© 2008 Brooks Leffler, All Rights Reserved.
Equipment
Nikon D40x with Sigma 8mm Fisheye f.4, mounted on home-built pano head on 10 ft Impact light stand, using gentLED infrared shutter trigger. Four RAW images processed on an iMac 24 in Photoshop CS3, stitched in PTGui 8.0, aided by Pangea PanoPreviewer, and converted to VR with ClickHere Design's CubicConverter 2.1.3.