The River Isar Near Munich
Grünwald, Germany
April 12, 2007 - 18:00 UTC (19:00 local time)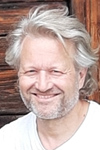 Loading panorama viewer ...
Configuring ...
© 2007 Carl von Einem, All Rights Reserved.
Equipment
This is done with my usual equipment, a small 35 mm Voigtländer rangefinder camera (
Bessa-L
) with a wide angle lens (
12 mm Ultra Heliar
), using Reala color negative film. The scanned images were stitched with
HuginOSX 0.6.1
and
enblend 3.0 mac
. Oh, and some minimal work in Photoshop.