San Ciprianu Beach, Corsica
Holiday Homes on the East Coast of this Mediterranean Island, France
15th July 2006, 09:01 local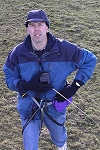 Loading panorama viewer ...
Configuring ...
© 2006 James Gentles, All Rights Reserved.
Equipment
Nikon 8400 with FC-E9 Fisheye, mounted in a special flight cradle (called a 'rig'). Suspended from a KAPilot kite - specially designed for stability. Camera triggered by an external intervalometer - gentLED AUTO.
Behind the scene : how this panorama was made
This image was taken using Kite Aerial Photography (KAP), where a kite is used to obtain unusual angles on the subject.
The camera is mounted in a special rig.
http://www.gentles.info/KAP/Rigs/index.htm?item=7
and hung from the kite line below a kite specially designed for stability.
Even in the smoothest winds the camera is constantly moving so the finer details of "nodal points" have to be left behind on the ground. The image obtained is a full hemisphere, which normally has an uninterrupted horizon. This image is combined with a "stock" sky to form the final panorama.
http://www.gentles.info/KAP/Gallery/Panotechnique/index.htm
In this case the sky is from Scotland. Where possible a sky shot is taken at the same location, but with obstructions on the horizon this isn't always possible.