Preved Medved! - Bear Surprise!
Tallinn, Estonia
July 24, 2006 - 10:15 UTC (12:15 local time)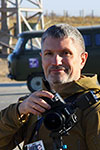 Loading panorama viewer ...
© 2006 Andrei Bodrov, All Rights Reserved.
Equipment
Taken with an Canon 300D digital SLR, Sigma Fisheye 8mm. Mounted on a Manfrotto 304SPH. Stitched with Panorama Tools. QTVR by Pano2QTVR.