Rydal Cave
Rydal Water, Cumbria, England, UK
September 27th 2005, 15:35 British Summer Time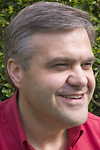 Loading panorama viewer ...
Configuring ...
© 2005 Steve Pendleton, All Rights Reserved.
Equipment
Canon EOS 300D and Sigma 8mm Fisheye. Kaidan Kiwi-L pano head, Manfrotto tripod. 4 images around with hand-held nadir image. Shot Raw, converted in Adobe Camera Raw to 16 bit Tiff. Stitched in PTMac to equirectangular image, cube faces created in CubicConverter. Nadir patched into bottom cube face in Photoshop and final movies then created in CubicConverter.