View From Above Mount Olympus Ski Field
Craigieburn Range, Southern Alps, South Island, New Zealand
August 26, 2005 - 02:45 UTC (14:45 local time)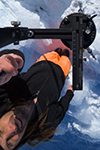 Loading panorama viewer ...
Configuring ...
© 2005 Simon Wheaton, All Rights Reserved.
Equipment
---
HARDWARE
---
Canon EOS 350D DIGITAL (EOS Digital Rebel XT) Camera
Canon RS-60E3 Remote Switch
Canon EF-S 10-22 mm f/3.5-4.5 USM Zoom Lens
Peace River Studios 3Sixty Panoramic Camera Mount
Manfrotto 338 Levelling Base
Acratech Universal Cork Top Quick Release Camera Plate
Acratech Ultimate Ballhead Tripod Head
Gitzo G1227MK2 Mountaineer Carbon Fiber Tripod
Gitzo G1586B3 Location Shoes (Tripod Snow Shoes)
Inca Hotshoe-mount Dual Spirit Level
SanDisk Extreme III 1GB CompactFlash Memory Card
NextoDI Nexto-CF ND-2500 60GB Portable Storage Device
Garmin eTrex Vista C GPS Receiver
Burton Snowboards F-Stop Camera Backpack
---
SOFTWARE
---
Adobe Photoshop CS2 (RAW Image Conversion, Image Editing and Adjustments)
Kekus Digital PTMac (Panorama Stitching)
Helmut Dersch's Panotools (Panorama Stitching)
Kekus Digital XBlend (Panorama Blending)
Andrew Mihal's Enblend (Panorama Blending)
Thomas Rauscher's Pano2QTVR (Blended Panorama Image to QTVR Movie Conversion)
---
EXPOSURE
---
Focal Length: 10mm (16mm at 35mm film equivalent)
Shutter Speed: 1/125 second
Sensor Sensitivity: ISO 100
---
THANKS
---
Special thanks have to go to Erik Krause, and to Kevin Kratzke at Kekus Digital, as well as the members of the Panotools, QTVR, and WWP mailing lists, for invaluable assistance in learning, understanding, and improving the techniques involved in QTVR panoramic photography.
I would also like to thank G. Donald Bain, Landis Bennett, Markus Altendorff, and Thomas Rauscher, the creators and administrators of The World Wide Panorama site, for their tireless efforts at providing (and improving) such a great resource where we can showcase our love of QTVR images.
---