Macquarie Boutique Hotel
40-44 Wentworth Ave, Sydney NSW 2000, Australia
07/11/2005 at 09:24 ( EST - Eastern Standard Time (UTC/GMT +10 hours)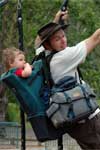 Loading panorama viewer ...
Configuring ...
© 2005 Pascal Vuylsteker, All Rights Reserved.
Equipment
Taken with a Nikon D70 digital SLR, Fish Eye Sigma 8mm (partially full frame : focal length multiplier of the D70 : 1.5 : 8mm <=> 12mn/24x36), f6.3 at 1/50 second, in Raw format. Mounted on a Kaidan KIWI-L QTVR Pano Head (on Sony Tripod) + Hand held Nadir (4+1). Stitched with PTMac 3.1 (v59). Cleaned with Photoshop CS.