Canoe Rental at Moraine Lake
Banff National Park, Alberta, Canada
10:30 am, August 5, 2005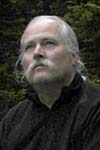 Loading panorama viewer ...
Configuring ...
© 2005 G. Donald Bain, All Rights Reserved.
Equipment
Photographed with an Olympus E-1 dSLR, 14-54mm lens at 14mm (28mm equivalent), on a Kaidan QuickPan III with spherical adapter, Velbon tripod and Acratech ball head. Stitched with RealViz Stitcher 5, post-processing with Adobe Photoshop CS.
Behind the scene : how this panorama was made
My specialty is landscape photography, and for the most part I take cylindrical panoramas. They are more efficient and easier to produce than cubics (spherical), and usually all that is missing is more sky above and dirt below.
But sometimes, particularly in the grand landscapes of the famous national parks of western North America, a cylinder isn't enough. So, about 5% of the time, I shoot multiple-row spherical panoramas.
This one consists of 24 shots around level, 7 shots up 45°, 7 shots down 45°, and a vertical zenith shot. The original stitched equirectangular image is 13,404 pixels wide by 6702 pixels high, a 202 mb file, which is of course reduced for web display.