Cathedral of Holy Mary Assumption
Kielce, Poland
December 18, 2004, 15:52 UTC (16:52 local time)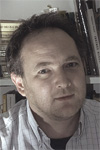 Loading panorama viewer ...
Configuring ...
© 2004 Piotr Popik, All Rights Reserved.
Equipment
I took 7 images, all horizontal, in portrait mode on Canon Digital Rebel (300D) set at ISO 200, with Peleng 8mm lens (f/8, 15s exposure). Panorama was stitched using PTGui, Autopano and Enblend and converted to cubic with PanoCube.
Behind the scene : how this panorama was made
I was thinking about this cathedral since the time the 'Sanctuary' theme was announced. This cathedral is located in Kielce (the city being 100 km far from Krakow) and has been the most influential to me... as it retained the ancient, traditional spirit, unlike modern churches.
One may see 'no photo allowed' sign on the doors, so the first thing I did I asked the priest for a permission, which he gave to me after little explanation. He said I should ask the key-keeper to turn on some extra lights, because it was very dark inside (the panorama was shoot at the evening). I could not find the key-keeper person, so I started taking pictures without any extra light (the available light allowed me to take pictures at ISO 200 with f/8 and 15s of exposure). The key-keeper appeared when I almost finished, the extra light allowed to take another picture of altar, which, because of that is well exposed. The whole thing lasted ~ 6 minutes.