Australian National Botanic Gardens : Escape from Work
Close to the Australian National University, Acton, Canberra, Australia
Monday, 20 December 2004 - 04:15 GMT (14:15 local time)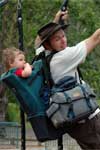 Loading panorama viewer ...
Configuring ...
© 2004 Pascal Vuylsteker, All Rights Reserved.
Equipment
Taken with a Nikon D70 digital SLR, Fish Eye Sigma 8mm (partially full frame), f10 at 1/125 second. Mounted on a Kaidan KIWI-L QTVR Pano Head (on Sony Tripod). Stitched with PTMac 2.1. Cleaned with Photoshop.
Caption in French
Le role officiel des
Jardins Botaniques Nationaux Australiens
est de : "Cultiver, Etudier et Promouvoir la flore Australienne". En pratique, les jardins offrent bien plus que cela au public. A titre d'exemple, il es possible de pique-niquer au son d'un groupe de Jazz ou de musique classique tous les Samedi et Dimanche Soir de Janvier (Notez bien sur que c'est le plein été à Canberra à cette époque...).
Pour ma part, les jardin m'apportent un lieu de calme et de relaxation (et de fraîcheur aussi), à 5min de mon travail, à pied. Et pour rappeler que ce havre de paix se trouve en fait au coeur de la ville, j'ai placé à dessein au centre de l'image la tour des télécoms, un des bâtiments dominant de Canberra