The Morrison Library
University of California, Berkeley, California, USA
December 20. 2004 - 9:00 PST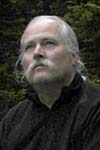 Loading panorama viewer ...
© 2004 G. Donald Bain, All Rights Reserved.
Equipment
Olympus E-1 with 14-28mm lens at 14mm (equiv to 28mm), on a Kaidan QuickPan III with spherical adapter. One level tier of 14 images, tiers up and down at 45 degrees of 7 images each, zenith and nadir. RealViz Stitcher 4.0 on a Mac G5.
Behind the scene : how this panorama was made
When the theme of "sanctuary" was settled upon I immediately thought of a library. While growing up I often sought the quiet but intellectually stimulating environment of the school and community libraries. As a student at Berkeley I explored its vast library system, 23 locations and 9 million volumes. When I was a graduate student at University College London I spent months in the great libraries of London, sometimes even occupying the seats in the
British Museum Reading Room
where Karl Marx and George Bernard Shaw had read and written.
My first thought was to photograph the majestic North Reading Room of the Berkeley main library, a Greek temple design, but it is currently closed for renovation. But then I realized how perfectly the Morrison Library fit the theme. Mrs Morrison had the library built specifically as a refuge for students, a sanctuary from the everyday world. Her wish was that studying not be allowed there, only recreational reading and listening to music.
I got to the library as soon as it opened so there was only one student there. The room is softly lit, but there was bright light streaming in through the windows as the morning mist cleared.
I work primarily with cylindric panoramas for landscape photography, so this was a new challenge for me. There are still a few areas of poor registration, but I just ran out of time.